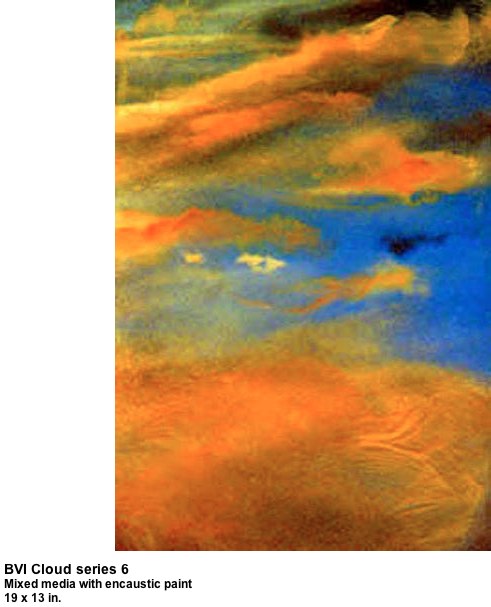 STATEMENT
In her body of work Maureen Renahan-Krinsley, trained as a painter, combines the media of acrylic paint, photography, computer graphics, pastels and encaustic wax. Her work builds on the associations of memory and experience and has been inspired by travel and impressions of different cultures and landscapes. Her intention is to convey emotional reactions to a particular place. She works in all sizes, from 4x6 inches to 5 foot canvases, and all her work is archival, using watercolor, print paper or canvas. Her abstract landscapes have been created to view singly, or in complementary groupings of two, three or four, based on their interrelations of form and color.
As a part time resident of Tortola and Martha's Vineyard she has created a large body of work related to her visceral response to each of the island's landscapes.
Recently she has created new series of abstract figurative work combined with material including encaustic, photos, drawings which are from diary drawings done on I pad on trains and planes during various travels to very unique places. They are a visceral response to these places and reflect her emotion reaction at the time. They are printed in various sizes from 4 by 6 to very large prints.
BIOGRAPHY
Maureen Renahan-Krinsley received her undergraduate degree from Skidmore College in Art and her Master's degree from Pratt Institute. Her work is in both private and corporate collections. Recently she was commissioned to do work for the ICU waiting room, the lobby, and the floors of The Stamford Hospital and The Tully Medical Center.
She has exhibited nationally and is an Artist Member and has been on the Board of Directors of The Silvermine Guild of Artists and The New York Society of Woman Artists. She has been juried into shows and received numerous awards from esteemed leaders in the art world such as Andre Emmerich (The Emmerich Gallery), Paula Cooper, (The Paula Cooper Gallery), Cora Rosevear (The Museum of Modern Art), Jill Snyder (The Aldrich Museum) Lisa Messenger, (Curator of 20th Century Art at the Metropolitan Museum of Art), Anne Tempkin, (Chief Curator of Painting at The MOMA), George King, (The Georgia O'Keefe Museum), David Pease, (Dean of the School of Art of Yale University), Maurice Tuchman, (formally the Chief Curator for the Los Angeles Museum of Art), and Elizabeth Smith, ( Chief Curator of the Chicago Museum of Contemporary Art).